Browse by Condition: Learn More About Your Child's Blindness or Low Vision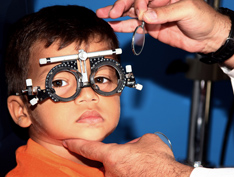 Many parents want to learn as much as they can about their child's diagnosis of blindness or low vision and what the future will look like for their child. Here you can browse the most common conditions that can cause an eye condition and learn more about the likely implications, next steps, and sources of support.
After the Diagnosis: For Parents of a Child Just Diagnosed with Blindness
Whether your child is a baby or toddler, preschooler, grade schooler, or a teenager, learning that your child has blindness or low vision can be a shocking event that affects you and your entire family.
If you're feeling a wide range of strong emotions, you're not alone. Most parents of children who are blind or low vision can recall the day they first suspected their child couldn't see, the day they were given the diagnosis of their child's eye condition (or the uncertainty of an unclear diagnosis), who told them, and how the news was delivered.
Start here for critical information you'll need after the diagnosis.
Join the FamilyConnect Community
Join the FamilyConnect community and connect with other families who have children with the same eye condition as your own. You can choose to receive email alerts for events and activities near you as well as tips for living with vision loss, new articles, blog posts, and announcements relevant to you and your family.