The definition of respite includes the phrase, "an interval of relief." When my son who is blind was a baby, admitting that I needed any "relief" from caring for him was extremely difficult. He had some government funding that would have paid for "x" amount of respite hours every month. I hardly ever used it because I felt that I should be his only caretaker.
When he was a few years older, I knew that I did need help, and I should have sought it out sooner. I had two other children then, was the stay-at-home parent, and I was exhausted. I would get worked up over little things and find an excuse to leave as soon as my husband got home from work. My oldest was in first grade, and her teachers were concerned because she was always on the verge of tears. Our family was no longer functioning, and her chronic sadness was unbearable to witness.
So, I started to rely more on the help of others. We had a few responsible care providers that we trusted with Eddie. I was able to leave him in good hands while I took my girls to the park, or to the store, or simply out for milkshakes. What I forgot to think about when deciding whether or not to pursue respite care was whether or not my children may need it, too.
Without funding for respite, we've had to find more creative ways to take time for ourselves. One thing I did was return to work. I stayed at home with Eddie for many years, and I needed a change, so I became a teacher of the visually impaired. Due to the recommendation from many other special needs parents, I'm reading "Far From the Tree," which gave me a new perspective on why I may have chosen that profession.
The author mentions that some parents begin advocating for other children with disabilities as a way of taking a break from their own special needs child. If they are still helping children like their own, they don't feel guilty. I'd never thought about it that way before, but I'll admit that is one of the reasons that I like my job. Although I do need time away from Eddie, I can spend that time with other children like him, and maybe make a difference for many instead of one.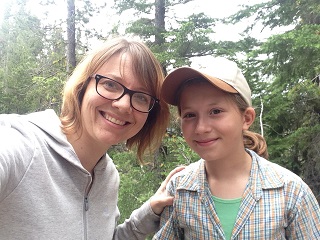 Recently, in remembering that I'm not the only one that needs respite, I took my oldest daughter, Molly, on a road trip with good friends of ours. We had a marvelous time, and this photo was taken during a hike, one of our many adventures. Sometimes I need respite, and I find a way to get it. However, Molly doesn't know how to ask for it when she needs it, so it must simply be provided without her request at times.
Now for my husband, who lately has picked up the nickname "Saint James" due to his giving nature. He never asks for a "break" and doesn't like to admit that he needs an "interval of relief." So, like with Molly, he also has to simply be given time. Time to do things he loves to do. Time to think only about himself, and without the guilt.
This week, that means extra time in his wood shop, and that's enough for him. Next month, we have plans to camp for a couple nights, do some fly-fishing, and attend a Tom Petty concert. It'll be just the two of us…and I CANNOT wait. I'm no longer ashamed to admit that raising Eddie is exhausting and respite isn't really optional for us…it's simply required.